Beans & Legumes -Tofu or Bean Curd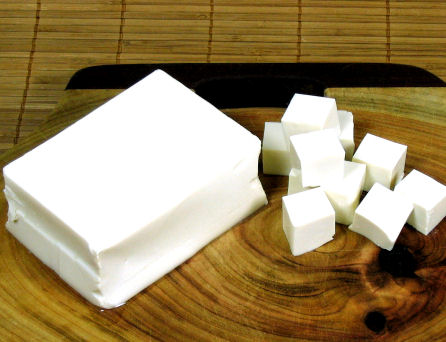 (http://www.chiropractic-help.com/images/Tofu-nutrition-blocks.jpg)
Tofu or bean curd
Tofu or bean curd is soft white blocks made by coagulating soy milk with substance such as salt or acid or enzyne, a stable emulsion of oil, water, and protein that can be made into tofu, originated from Chinese and part of East and Southeast Asian. Since it is proven to be one of many healthy foods, it become synonymous with vegetarianism and others.
Nutritional Supplements
1. Protein
2. Carbohydrate
3. Omega 3 fatty acid
4. Vitamin A
5. B vitamin
6. Magnesium
7. Sodium
8. Maganese
9. Slenium
10. Copper
11. Phosphorus
12. Calcium
13. Potassium
14. Iron
15. Isoflavones
16. Etc.
Health benefits
1. Isoflavones
Isoflavones is one of the most powerful phytoestrogen, which not only helps to reduce symptoms of peri-menopause and menopause due to decreasing of the reproduction of estrogen as aging, it also helps to reduce symptom of menstrual cramps and pain as well as enhancing normal menstrual cycle.
2. Cardiovascular Benefits
Research found that protein of tofu significantly decreases the serum cholesterol by decreasing the levels of bad cholesterol (LDL) but leaving the good cholesterol (HDL) remain the same. It also benefits the cardiovascular health the other ways by lowering triglyceride levels and reducing the risk of platelets to form blood clots.
3. Iron and copper
The ratio of iron and copper is essential to enhance the proper levels of hemoglobin in energy production by transporting and releasing oxygen throughout the body.
4. Superoxide dismutase
Superoxide dismutase are an important antioxidant defense in nearly all cells exposed to oxygen as a class of enzymes that catalyzes the dismutation of free radicals due to exixtence of coper and manganese in tofu.
5. Menstrual cramp and pain
The existence of Omega 3 fatty acid reduces the production of prostaglandin hormone, by balancing the ratio of Omega 3 and 6 fatty acids, resulting in lessening the movement of abdominal muscle that cause menstrual cramps and pain.
6. Selenium
Selenium is classified as one of antioxidant trace mineral that helps to increase the immune function to fight the forming of free radicals, infection and inflammation caused by oxidation, irregular cells growth, virus and bacteria, etc.
7. Etc.
Side effects
1. Over consumption of tofu can cause dementia in older age groups.
2. Allergic effect for some people.
3. Since it contains a measure amount of axalates, it causes problem for people with kidney and gallbladder diseases.
4. Etc.
You can also view my home page for more health series and article
http://medicaladvisorjournals.blogspot.com (http://medicaladvisorjournals.blogspot.com/)or follow me on twitter
http://twitter.com/kylejnorton